Dear Toastmasters!
Thank you for this uplifting, inspiring and fun evening! It really was a pleasure to dance with you in our new Online Zoom Dancefloor!
The theme of the evening was Social DisDancing. There is one Quote which describes best what that's suppose to mean:
We can't alwys choose the Music Life plays for us, but we can choose how we dacne to it!
Strange new music
Even though life put us into this strange and unusual situation, which is something we cannot change, we can choose how to deal with it. And I'm glad that we've decided not to resign, but to dance to the music – which we do by continuing in developing our leadership and communication skills with online meetings.
What we learnind this week
Yesterday we learned from Kasimir how to deal with bad news and Frank (me) informed us, that we all are marvelous magicians. Holger held the historically first german speech on an english evening, where he educated us about Cargill "Das schlimmste Unternehmen der Welt" and called up on us to boycott their products. He was so convincing in doing so, that he also got elected "Best prepared speaker of the Evening". Last but not least Joao taught us about intuitive eating.
Inspiring Table Topics
In the following we heard four inspirational table topic speeches, which were moderated by Table Topic Timm who had one philosophical quote for each of the speakers – the winner was Philip who told us about the power of belief and how he overcame a sports injury with the sheer power of his unbreakable will.
Lars shared the award of the best evaluation speech with Christian, both of them evaluated the hell out of their prepared speekers and really did an excellent job.
We closed our evening with a Zoom selfie (if you can call it that way):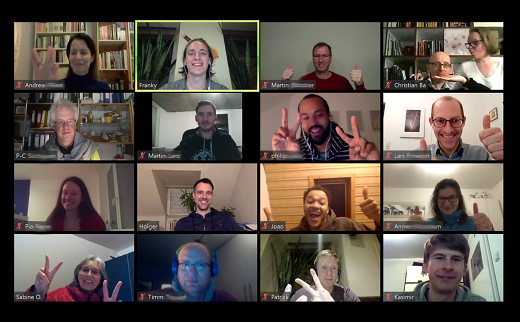 For those of you who are interested in seeing the full talk of Pope Francis which I quoted in one part of my moderation, you find it
here
.
Have a great weekend and see you the next time.